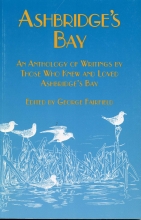 Ashbridge's Bay
An Anthology of Writings by Those Who Knew and Loved Ashbridge's Bay
Fairfield, George (ed.)

Publisher: Toronto Ornithological Club, Toronto, Canada
Year Published: 1998
Pages: 136pp ISBN: 0-9695562-1-7
Resource Type: Book

The story of a great freshwater marsh destroyed by urbanization.



Topics
AlterLinks
c/o Sources



© 2019. The information provided is copyright and may not be reproduced in any form or by any means (whether electronic, mechanical or photographic), or stored in an electronic retrieval system, without written permission of the publisher. The content may not be resold, republished, or redistributed. Indexing and search applications by Ulli Diemer and Chris DeFreitas.