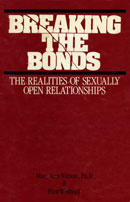 Breaking the Bonds
The Realities of Sexually Open Relationships
Watson, Mary Ann; Whitlock, Flint

Publisher: Tudor House Press, Denver, USA
Year Published: 1982
Pages: 204pp
Resource Type: Book

An examination of the lives of (American) people involved in socially and/or sexually open relationships.


Topics
AlterLinks
c/o Sources



© 2019. The information provided is copyright and may not be reproduced in any form or by any means (whether electronic, mechanical or photographic), or stored in an electronic retrieval system, without written permission of the publisher. The content may not be resold, republished, or redistributed. Indexing and search applications by Ulli Diemer and Chris DeFreitas.