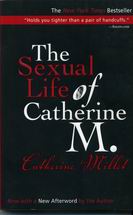 The Sexual Life of Catherine M.
Millet, Catherine

Publisher: Grove Press
Year Published: 2003 First Published: 2001
Pages: 224pp Price: $19.95 ISBN: 0-8021-3986-8
Library of Congress Number: HQ463.M4413 2002 Dewey: 306.7'082--dc21
Resource Type: Book


Topics
AlterLinks
c/o Sources



© 2019. The information provided is copyright and may not be reproduced in any form or by any means (whether electronic, mechanical or photographic), or stored in an electronic retrieval system, without written permission of the publisher. The content may not be resold, republished, or redistributed. Indexing and search applications by Ulli Diemer and Chris DeFreitas.