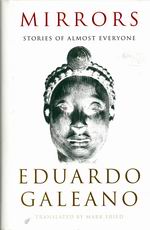 Other Voices: The Connexions Newsletter - April 23, 2015
Eduardo Galeano, Latin America, the Vietnam War
Diemer, Ulli (editor); Rickwood, Darien Yawching (production)

https://www.connexions.org/Media/CXNL-2015-04-23.htm

Publisher: Connexions
Date Written: 23/04/2015
Year Published: 2015
Active Serial

Resource Type: Serial Publication (Periodical)

In this issue of Other Voices, we mark the death of Eduardo Galeano by featuring two of his books, as well as an article about his life and work. Galeano once wrote that he was "obsessed with remembering, with remembering the past of America and above all that of Latin America, intimate land condemned to amnesia." In his writing, especially Open Veins of Latin America and the mesmerizing Memory of Fire trilogy, Galeano contributed enormously to bringing alive, and keeping alive, the memories of Latin America, and especially of those whom he called the "nobodies" -- the people "who do not appear in the history of the world." Next week also marks the 40th anniversary of the final victory of the Vietnamese war of resistance against the American invasion and occupation.


Topics
AlterLinks
c/o Sources



© 2019. The information provided is copyright and may not be reproduced in any form or by any means (whether electronic, mechanical or photographic), or stored in an electronic retrieval system, without written permission of the publisher. The content may not be resold, republished, or redistributed. Indexing and search applications by Ulli Diemer and Chris DeFreitas.